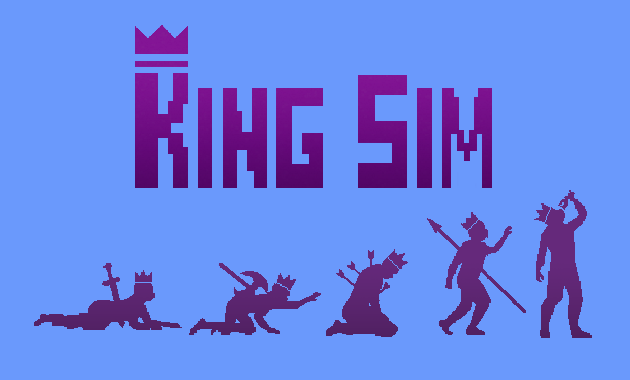 KingSim
A downloadable game for Windows
ENGLISH
The king is dead, long live the king!


Now it's your turn to rule your small 8-bit style kingdom. Unfortunately, our country has seen better days: the hordes from the south are about to invade, our economy and morale are pretty low, and rumors spread of assassins in town. Make decisions that count, but be cautious. You never know when you'll die.

Each decision affects the story. Trade, raise the army of undead, make alliances or execute your loyal subjects. The choice is yours. The characters remember your doings and act accordingly.
Manage resources. Balance your kingdom's Army, Food, Gold, Faith, Happiness, and Health. A wise king knows what's best.
Survive. The game has dozens of endings - a chain of wrong decisions can lead to death. Maybe next try you'll live a little longer?
Play minigames. Cut wood, mine for gold, trade on a market or win the princess in dice. Your skill can save your life.
How will your story end?
=============================

РУССКИЙ

Король умер, да здравствует Король!
Настала пора и тебе возглавить своё маленькое королевство. Но боюсь сейчас не лучшее время заступать на престол: на нас наступает орда варваров с юга, наша экономика и воинская мораль в упадке, а ещё ходят слухи об убийцах в городе. Обдумывайте ваши действия тщательно, Милорд. Но помните: никогда не знаешь от чего погибнешь.
- Принимай решения. Торгуй, воскрешай мертвых, заключай союзы или устраивай показательные казни. Выбор за тобой. А у каждого решения будут свои последствия.

- Управляй ресурсами. Перераспределяй свои Армии, Еду, Золото, Веру, Счастье и Здоровье в королевстве. Мудрый король знает, что лучше для его подданных.

- Опасность везде. В игре десятки разных способов умереть и ни одно прохождение не будет одинаковым! Выживи как можно дольше.

- Проходи миниигры. Командуй дровосеками, посылай шахтёров за золотом, торгуй на рынке или обыграй принцессу в кости. Твоё мастерство может помочь спасти королевство.


Как повернется твоя история?
=============================

Purchase
In order to download this game you must purchase it at or above the minimum price of $10 USD. You will get access to the following files: